Getting to Know about Panels in Photoshop
In this tutorial, you will learn the very basic things in Photoshop. It is about getting to know the panels in Photoshop. I hope it will help the very beginner level students of Photoshop specially in a great deal.
You can go to the interface before you go to the details of Photoshop for your image editing and all other stuffs. When you open the Photoshop, you will see all those menus up in the toolbar and tools in the left side. So, it is kind of overwhelming for the beginners. You will come to know about how to navigate the interface or the layout. Firstly, go to the right side of the Photoshop to see the interface. You will see the interface is made up of a bunch of different panels like swatches or color. Photoshop mainly organizes a bunch of similar actions or a bunch of similar properties or settings in tabs. A color tabs is something where you mainly work with all of your works that is related to colors. You have different styles in the styles tab. It is what is best suited for the Photoshop users.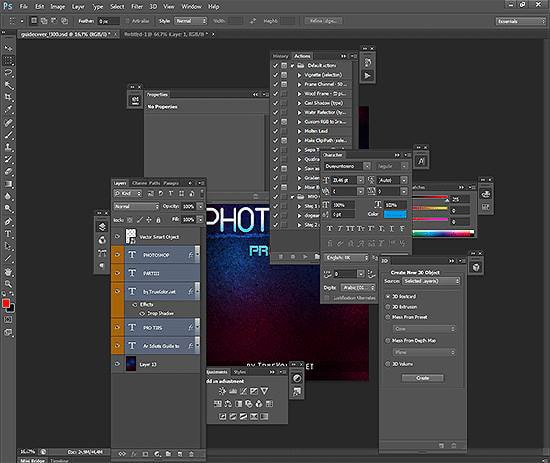 Photo Courtesy – http://www.makeuseof.com
First of all, you will learn about how to open and close panels. Suppose, you want to open a color tab. You just need to go to the window toolbar from the top and make sure that it has a check box attach to the color tab. Next, you will learn about how to collapse and expand these panels. In order to collapse these, double-click on the name of the panel. It cleans everything up for you. In order to expand, single-click on the name of the panel will do. If you want to group a particular panel, you just need to drag it wherever you like it to put. If you want to collapse or expand the whole column, you just need to click on the arrow button that is on the right of the column and that will do it for yourself.