High-quality Clipping Path at best price.
As an ISO 9000:2008 certified company we provide new standard in B2B Clipping Path Service and Retouch service with 100% data protection for Retailers, Photographers and Internet business. A dedicated team tailored to your needs for your workflow optimization. Fast turnaround, cost-competitive price combined with great customer service 24×7.
Data Privacy

Your images are secured and protected with us. We guarantee your images will be used for your project only. We value your trust to the core and keep it that way.
Delivery Time

Fast Turn Around is our strength. Starting from Flexible 24 hours to 48 hours delivery which followed by ASAP 1 hour, 4 hours, and 10 hours services for special urgency.
Dedicated team

Once we know your requirement about your project, we setup a dedicated team to work on your every project. By doing this we ensure that you always get the best result.
ISO 9001:2008

ISO 9001:2008 Quality Management Standard certification reflects the standard of quality of service that we provide.
Want a try ! You are always welcome to test our service free up to 3 images. Give it a go!
Delivery time & Pricing
24 hours to 48 hours is our standers delivery time but if you need them fester, then pick our best package.
Working process
1.
Upload to the application
Our web application is developed to save your time. You can upload, download, manage your invoice and communicate with us. Upon Login you'll find New Order and New quotation button in the dashboard.

New Order is pre-paid, you can choose your service preference, delivery time, and image complexity. Upon your selections the app shows the pricing for your choice! No need to wait for quotation.
New quotation, choose your service preference, delivery time, and submit, we will get back to you with price. You have to wait for quotation up to 60 minutes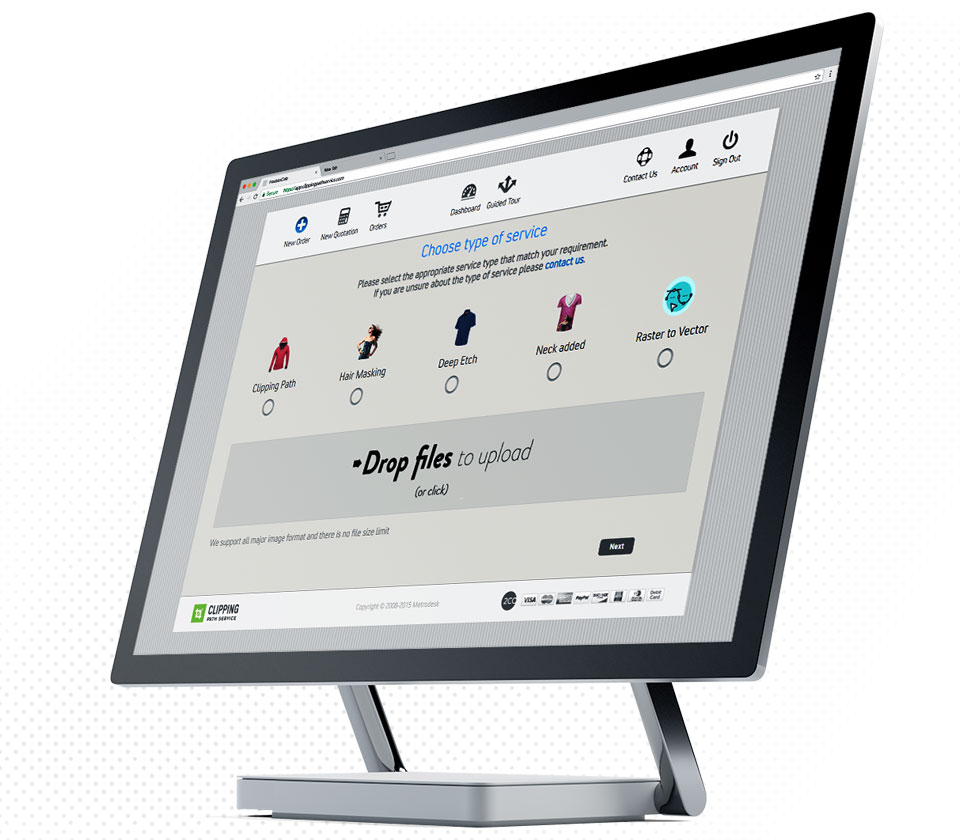 Testimonials
What they say
"I find them to be very polite & helpful, turning over work fast & on time at a competitive rate, with fantastic, clear and efficient communication."

"I absolutely LOVE CPS! They are professional and kind and their editing is AMAZING!" I have used their services a couple of times to change the background of a photo, and am always amazed at how flawless their work is. I will definitely use them in the future.

"Clipping Path Service, are an amazing supplier to work with. They're very responsive and their turnaround times are very quick. Our company would highly recommend them as a clipping supplier."

Tony Ventouris Photography

"Trusting CPS with my image retouching has allowed me to focus more on providing a better user experience to my clients while spending more time working on projects.  Less time behind the computer means more family time too."

"Fast job. Fast communication. Really good quality. Nice email contact So all about: You do a good job and we like it to work with you!"

Image

Image