How to Apply a Texture on a Flat surface in Photoshop
Here, you will learn on how to apply a cracked texture to a face. I hope it will help you both the beginner level and advanced level of students in a great deal.
At first, choose a photo that of your choice. Any picture will do the job but it would be much more preferable if the background is very black and has a lot of shadows. If you have a different photo, you can use the eraser tool to make it work. Suppose, you have a picture that has a lot of shadows and the background is black. Now, open up a texture in another tab. Go to Image> Adjustments> Gradients Map. Select the third gradient which has black and white shape. Make some adjustments which will suit you to do your job. Make the texture as much smoother as you can make. Drag the texture on to the default image. Select the layer. Before everything, you need to create a displacement map. Photoshop only used PSD on to the displaced folder. So, save the image as PSD. This is the file that you want to select when you want to displace your texture. Set the blending mode on to 'Multiply' and moving around to a scale that you think that is best suited for your job. You should not try to cover up the eyes or the main features with a really dark spot. Go to Filter> Distort> Displace and make the required adjustments for your image. Select the PSD image that you have selected earlier.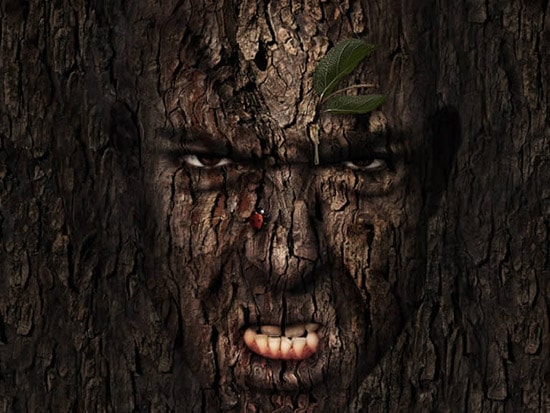 Photo Courtesy – http://alastimlashplur.blogspot.com/
Grab your eraser tool and make the opacity up to 100 and hardness on 0 because of the necessity of erasing the eyes which will work superbly. Technically this effect works better when eyes are showing through clearly and not covered up by the texture. Do the same to the other places and lips of the men as well but this time reduce the opacity to 20-30 percent otherwise it will look odd. Now create a new adjustment layer with slightly black and white 'Gradient Map.' Create a new adjustment layer once more and increase the brightness and contrast. You need to add color to it to make this image a perfect example of cracked face. So, select your original layer with the color on it. Duplicate the copy of that and drag it above all of your layers. Make the blending mode of this layer as 'Overlay.' Lastly, adjust the opacity by your own choice.
This way, you can apply a texture on even a flat surface like a face. Hopefully it will aid you in a great deal.