How to Make Water Drops in Photoshop
Here, you will learn on how to create water drops in Photoshop. I hope it will help you both the beginner level of students in a great deal.
Firstly, open a photo that you would like to add water drops to. Create a new layer and name it as a drop layer. Pen 'Elliptical Marquee tool' and press with hold Shift as you drag out into the circular selection. Open the 'Gradient tool' and click on the bar to open the gradient editor. Click on the third thumbnail which is the black to white gradient and click OK. You have to make sure that the linear gradient box is chosen. Go to the upper left of the circle and press with hold Shift as you drag diagonally down to the lower right. In order to delete the selection, press Ctrl + D. Change the blend mode from normal to overlay. Double click on the thumbnail of the drop to open its layer style window. Click 'Inner Shadow' and change the blend mode to 'Linear Burn.' Change the opacity range up to 35-40 percent and un-check the 'Global Light.' Change the angle -30 degrees, distance 2 and size 5 pixels. Depending on the size and resolution of your photo, you may want to change those and select that will suit for your image. Now, click on 'Drop Shadow' and make adjustments by your choice. After that, click OK.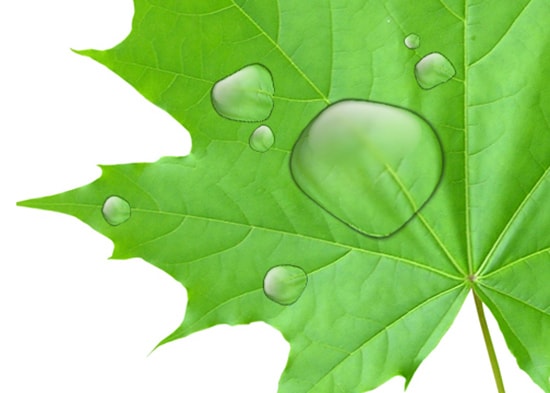 Photo Courtesy – http://auk5.com/
Next, you may want to put some highlight reflection on the drop. Create a new layer again and name it highlight. Invert he foreground and background color by pressing X on your keyboard. Open your brush tool and choose a small brush size with adjusting the hardness as well. Press down once on the upper left of your water drop. Now, place all those layers to a folder. Click Shift on the thumbnail both of the water drop and highlight layers. Then, click Ctrl + G. Make a copy of it by commanding Ctrl + J. Drag the copy to another spot. To enlarge it, open your transform tool by clicking Ctrl + T and enlarge it by holding Shift and Alt at the same time and drag. Make another copy but this tine make the water drop smaller.
That sums up the whole process. Hopefully that it will help you and I am optimistic that you will do a lot more funny stuffs with this in the future in Photoshop.